About Us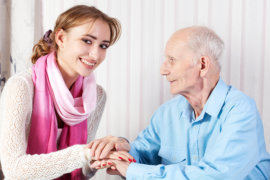 We believe that our online presence greatly benefits present and future clients by allowing them to easily and conveniently sign up for the quality services offered by our agency.
At Doorstep Procare Management LLC, our ultimate goal is to preserve the tradition of excellent healthcare right in the comfort of one's home. We aim to provide quality health care services that are guaranteed to serve the unique health needs of the physically and health challenged members of the community.
We would not have achieved what we have today without the passion and hard work put forth by our dedicated and highly skilled care team. Our healthcare providers, Angelina A. Rivero MD, Cristina R. Aseron MD, Federico Ilang-ilang MD, Paul P. Devaneson MD, David Pham NP, Jungsu Lee NP, Ionn Carlo Diaz NP, Mariaolivia Melchert NP and Rosario Pecson NP are experts in handling patients experiencing a variety of health challenges such as complications brought about by cancer, diabetes, terminal illness, a variety of chronic conditions, Alzheimer's, multiple sclerosis, cerebral palsy, and so much more. It is our duty to provide you care solutions that would help efficiently manage all of these conditions.
Home service of the highest standard is what we aim to provide all the sick, disabled, and elderly members of our community. Our utmost concern focuses on the enduring provision of these services in order to ensure an enhanced quality of life for our patients and their families. We are dedicated to first understanding the needs of our patients so that we may provide the ideal personalized care plans that specifically cater to these individual needs at home.
We guarantee you the warmest, friendliest, most reliable, and compassionate physicians who have gone through:
Extensive screening and background checks to ensure utmost safety and security for the people we serve.
Rigorous training in order to develop the skills and character required to become the best they can be in the healthcare field.
Well experienced working professionally in the home or health care field.
We urge you to get in touch with us today. Choosing us as your care partners will give your loved ones the assurance of a healthy and fulfilling life at home. Please call 972-289-2273 or send a message to procare@dpmhousecalls.com to ask for assistance.
We look forward to being of service to you and your family today!